For public safety, by public safety
While some commercial carriers claim to be the network for first responders, only FirstNet was built by first responders, for first responders. Period. FirstNet provides Indiana public safety agencies, individual first responders and those that support them with modern communication tools. Reliable connections help those on the frontlines perform at their best. 

On your agency device and/or personal device FirstNet is mission ready

How do I sign up for FirstNet?
As a caregiver for Indiana public safety, your organization verifies your eligibility for FirstNet on your personal line of service.

"This nationwide system allows public safety personnel – here in Indiana and across the country – to connect seamlessly. This means much more efficient and effective response to an emergency event like a 10-car pileup, an F5 tornado or a flash flood. It also benefits emergency responses to events like Thunder Over Louisville and others that engage multiple public safety agencies."


Jamey Noel
Clark County Sheriff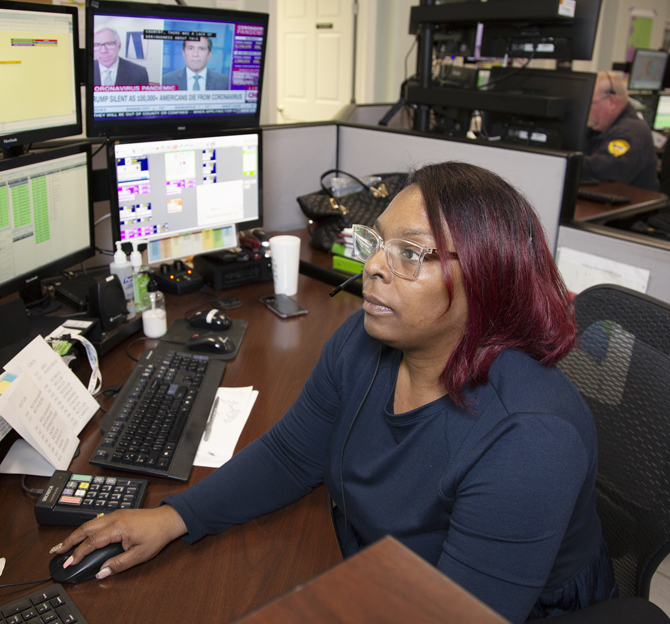 Reliable Connectivity for a National Crisis
During the pandemic, Americans have been working from home, schooling children from home, and using record-setting bandwidth. One fire chief talks about how public safety's network has held up during COVID-19.
Watch now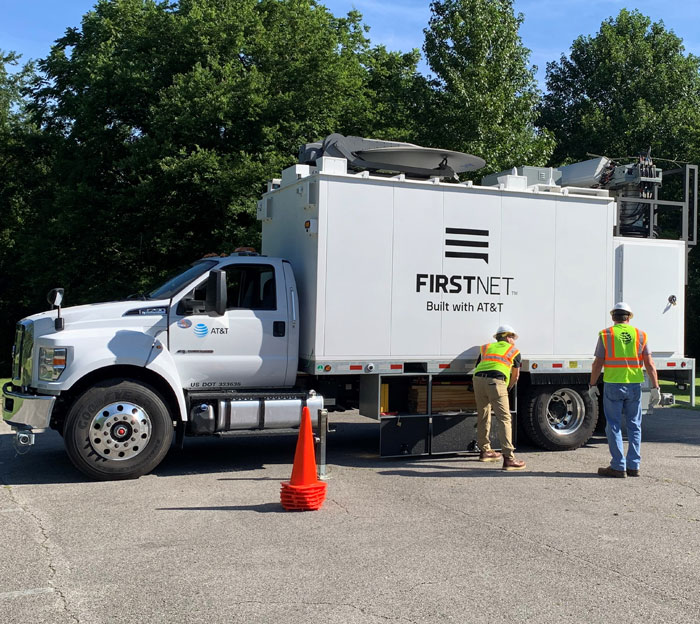 "FirstNet deployable network assets – like the mobile cell site pictured here – are invaluable for both preparedness and when responding to emergencies. This asset was stationed in Spencer County, Indiana, to provide interoperable communications across FirstNet for public safety during an event at the Lincoln Boyhood National Memorial."
Photos courtesy of the Indiana Integrated Public Safety Commission
Following 3GPP and FCC standards, FirstNet is the only network where public safety can take advantage of the highest power class signaling available in the U.S. with FirstNet MegaRange™, the high-power user equipment (HPUE) solution exclusively available on Band 14.  MegaRange™ can significantly improve connectivity especially at the edge of network coverage. And for urban and suburban responders, this can help solve the common challenge of difficult coverage spots. The stronger signal may better assist those connecting from hard-to-reach places like building shadows, parking garages, basements, elevators, and stairwells, helping first responders communicate inside and out. Learn more on FirstNet MegaRange™ here.

Imagine looking at a map and being able to know what street corner you're standing on, as well as how high up in the building you are. That's the vision behind our Z-Axis capability. Think of it as the "vertical axis" view added to current two-dimension situational awareness applications. Now available in more than 105 markets across the country, with additional markets added weekly, public safety has a new level of indoor spatial awareness not previously available using traditional GPS-based location methods. Intrepid Networks' Response for FirstNet, a situational awareness platform, is the first to bring our Z-Axis capability to market. Check out how this will help communities nationwide here.

Compact Rapid Deployable (CRD)

Public safety agencies can now also purchase their own deployable network assets. These agency-owned Cells on Wheels (COW) can be deployed by a single person within a matter of minutes. CRDs link to FirstNet via satellite and do not rely on commercial power availability, making them ideal for use during emergencies in rural and remote areas, as well as areas where communications may be temporarily unavailable. Think search and rescue missions or after a major hurricane. And with on-the-go coverage, public safety will have dedicated Band 14 connectivity wherever it's needed.

LMR interoperability for FirstNet Push-To-Talk

The first-ever nationwide mission-critical, standards-based PTT solution to launch in the U.S. now supports LMR-to-LTE interoperability. This means first responders using LMR can virtually seamlessly communicate with users on FirstNet PTT and vice versa.  With LMR interoperability, FirstNet PTT can complement your agency communications – such as including support staff who regularly use smartphones and allowing team members who travel outside the LMR footprint to remain connected. Plus, 11 FirstNet Ready™ devices are now approved for FirstNet PTT. Dive deeper into how this helps first responders work better together in our latest blog.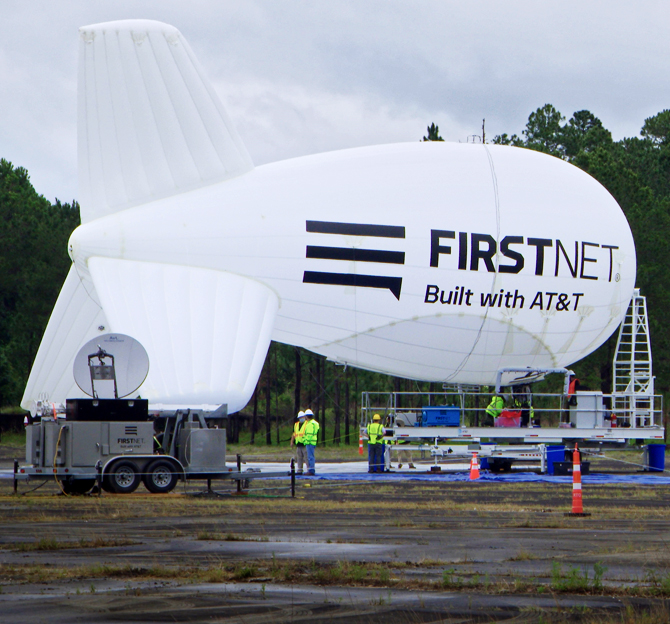 FirstNet response fleet of deployable assets: available for FirstNet users when disaster strikes or for a planned high-visibility public event
The fleet of 76 temporary service solutions includes ground-based assets such as Cell on Wheels (COWs) and heavy-duty Satellite Cell on Light Trucks or SatCOLTs. It also contains ground-breaking use of drones, Flying COWs™ (Cell on Wings), and FirstNet One – an industry-first blimp.
When disaster strikes, keeping first responders and our other customers connected is our priority – and the specific mission of our Network Disaster Response (NDR) team. Unwavering commitment, continuous improvement, and deploying the latest in technology solutions for restoring service fast has been the hallmark of our program since it began in 1992.
See how other responders are using FirstNet

Subscribe to the FirstNet Newsletter today!
By clicking Submit, you consent to AT&ampT sending you email about FirstNet services at the address you provide, even if you have previously opted out of receiving AT&ampT marketing emails.
By clicking Submit, you consent to AT&ampT sending you email about FirstNet services at the address you provide, even if you have previously opted out of receiving AT&ampT marketing emails.