5 Reasons to Celebrate EMS
The faces of help and hope where emergency care begins - that's EMS. During National EMS Week, FirstNet®, built with AT&T, would like to recognize the emergency medical profession and acknowledge the hard-working EMS clinicians who tirelessly care for our communities. To commemorate this special week, we're sharing five reasons to celebrate EMS.

1) More workforce engagement programs
The EMS profession is tremendously demanding and the days and nights can be long and grueling. Now more than ever, agencies are recognizing that their clinicians need more than a paycheck. Workforce engagement programs that help clinicians feel valued and appreciated are becoming the norm. Agencies are instituting formal programs that employ apps, tools and strategies to help keep EMTs and paramedics happy, healthy and connected on the job.
Industry organizations such as the National Association of Emergency Medical Technicians (NAEMT) have prioritized the idea of workforce engagement programs and tout the benefits to agencies, their employees and, ultimately, their patients. Programs that regularly recognize employee accomplishments, both on and off the job, and celebrate saves and other successes do a lot to improve camaraderie.
Prioritizing employees and initiating formal programs that show they are valued builds employee satisfaction, and combats problems such as burnout, turnover and absenteeism, so the workforce can ultimately provide better patient care.
2) Improved technology
EMS has come a long way since canvas stretchers, wooden backboards and Biophone telemetry radios. Technology has given us better tools for life-saving care, improved communication, enhanced connectivity and more interoperability with other first responders and hospital providers.  
 
Safer ambulances, better equipment and communications advancements are making a big difference in EMS. Technology has not only led to saved lives, but has also revolutionized the job of the emergency responder and modernized public safety as a whole. 
 
EMS and all public safety disciplines now have access to 21st century tools they need to save lives and keep our communities safe. The First Responder Network Authority (FirstNet) designed the FirstNet network in 2012. Today, FirstNet allows EMS clinicians and other emergency responders to coordinate responses efficiently and effectively across agencies and jurisdictions. Priority access on this separate, dedicated and secure network keeps public safety's sensitive communications private. Associated tools, such as FirstNet Mission Critical Push-To-Talk with Land Mobile Radio (LMR) interoperability, have made EMS communications more convenient and reliable.
3) Better education and training
In the early 1970s, the concept of prehospital emergency care became mainstream across the country. Early on, there was far less science to back treatment protocols, and much of the teaching was done by nurses or doctors without experience in the field. Advanced cardiac life support (ACLS) guidelines didn't exist until 1974 and most of the patient care and training (particularly for cardiac arrest) was not standardized. 
 
In 2023, emergency medical professionals have a unified system of EMS education promoted by the National Highway Traffic Safety Administration (NHTSA) Office of EMS, as well as published National EMS Education Standards and a National Standard Curriculum. There's a variety of certification levels available through the National Registry of Emergency Medical Technicians (NREMT) and required state licensure. There's also hundreds of local, state and national associations–as well as federal programs and offices–to support the EMS workforce. These organizations are constantly evaluating and updating the standards and curriculum for EMTs and paramedic programs. 
 
Today, thanks to standardized science-backed protocols, psychomotor and cognitive exams, training programs, and recertification policies we have a well-trained and highly skilled EMS workforce across the nation.
4) Increased awareness and support for responder health and wellness
Emergency responders are routinely exposed to high levels of emotional and physical stress as a result of providing acute care in the uncontrolled prehospital setting. What they see, hear, smell and feel on a daily basis–combined with the physical demands of the job, and the strains of shift work–all contribute to overwhelming job-related pressure that takes a major toll on mental health. Thankfully, EMS organizations are doing more in the area of provider wellness and resiliency–working to eliminate the stigma surrounding mental health.
One agency making great strides in responder health and wellness is Global Medical Response (GMR). They created a specific division called GMR Life, established specifically to address employee health and wellness.
As Matt Philbrick, the manager of GMR Life, explains, "In an effort to change the stigma, we encourage responders to identify when it's time for them to be the helper and when it's the time for you to ask for help."
Philbrick notes that by building resiliency and what he refers to as a "mental fitness skill set," that responders are not only relieving their mental health burden, but also maintaining a better clinical practice.
To support the mental health of public safety professionals nationwide, FirstNet provides access to a family of holistic health and wellness tools and resources, driven by the FirstNet Health & Wellness Coalition, which currently represents more than 1.3 million first responders. The Health & Wellness Coalition addresses post-traumatic stress, physical fitness, anxiety, depression, alcohol and drug abuse, and suicide prevention through education, partnerships, special apps and more.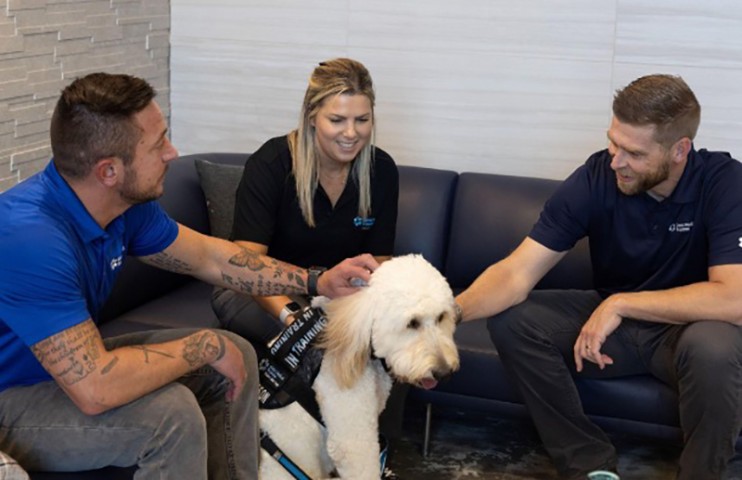 FirstNet also supports EMS clinicians through ROG the Dog, the FirstNet animal-assisted therapy program. Animal assisted therapy improves coping and recovery from critical events and enhances morale in departments. It also decreases anxiety and reduces the negative impacts of post-traumatic stress.
5) Diverse opportunities
EMS is everywhere in 2023. Professionals have new and exciting opportunities to work in a variety of settings. The advent of community paramedicine programs allow clinicians to function outside of their traditional emergency response and transport roles. Giving people increased access to primary and preventative care–particularly in medically underserved populations– helps our communities, and has expanded the role of EMS.
The rise of telehealth in EMS, increased mental health calls, the opioid crisis and all the changes that transpired during the pandemic have altered the prehospital space. And while it has challenged and stretched EMS agencies and providers, it has led to new skills and unique avenues for employment.

This EMS Week, join us in honoring the emergency medical profession and the clinicians who provide life-saving care in every community across the country. EMS is facing many challenges, but providers are stronger than ever with better education and training, access to superior technology and more programs to support wellness and resiliency. Find out more about National EMS Week and technology solutions for EMS at https://www.firstnet.com/industry-solutions/ems.html.