FirstNet is there when you need it.
FirstNet, the nationwide public safety broadband network, is also designed to support hospitals and other emergency care teams.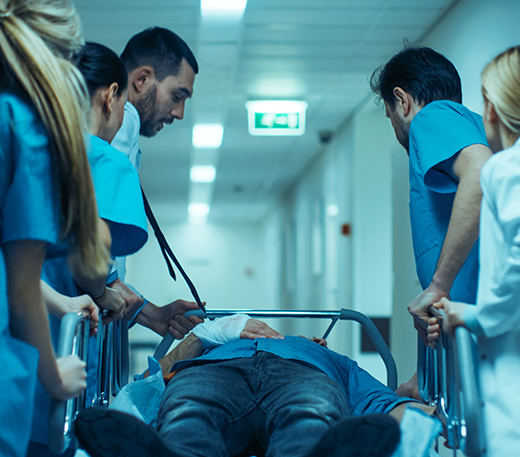 You play a critical role.
An emergency isn't a single moment in time. After the initial crisis comes the aftermath; victims, families and emergency personnel descend upon hospitals like yours—all at the same time.
In these seconds, a hospital's emergency response plan is activated, and priority communication is key to life-saving trauma care. While the ER focuses on triage, administrators oversee care coordination between the ER, OR, radiology and various specialty departments because all hands are on deck. FirstNet is the right technology for the job.
Healthcare, supporting first responders
Strong communication 24/7/365 is essential, and any absence of communication can cause potential harm to healthcare professionals and their patients. FirstNet is here to help.
Learn how the FirstNet dedicated secure network helps the field and the hospital communicate effectively to save lives.
Watch Now
"When we get a cardiac call, our initial goal is
to get an EKG read on our patient. We use
FirstNet to transmit that EKG lead to the
hospital. Having that information to that doctor
within minutes of being on scene can save a life."
Shawn Richards
Deputy Fire Chief
Village of University Park, Ill.

 
Never miss an update from your network

Subscribe today!