Connecting Utilities
When you are on the front lines of a crisis, you need technology you can trust.
The FirstNet mission is to help make communications simpler, safer, faster and more effective for public safety. FirstNet gives critical infrastructure entities such as electric, gas, and water the connectivity they need to coordinate with first responders and connect to key infrastructure and utilities personnel—all with high security and without throttling anywhere in the U.S.
Unlike commercial wireless carriers, only FirstNet offers exclusive access to a unique set of features and applications.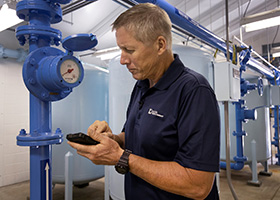 Helping Utilities Support First Responders
FirstNet is available for organizations that provide public safety services in support of first responders. Learn how FirstNet helps utilities stay connected when it matters most.
Watch Now
"It is vital that every utility has the
capability FirstNet provides."
Bryan M. Fortino, CFO
Del Oro Water Company
The Power of FirstNet : When we say we're here for you every step of the way, we mean it. Here's why you should get started today:
We are here to help. Please fill out the information below to get in touch.
Note: If you are already a customer please call 800.574.7000 for immediate service.
Never miss an update from your network

Subscribe today!