When people rely on you, you can rely on FirstNet
FirstNet is the only network that prioritizes healthcare workers with a dedicated communications platform that allows them to connect when and where they need it the most.
With FirstNet, health care workers get the reliable, highly-secure, prioritized coverage you need – when you need it – never competing with commercial traffic. Join over 24,000 public safety agencies, with 4.4 million connections, already on FirstNet today.
FirstNet is not a commercial network – it stands above. FirstNet was designed and built "from the ground up" specifically for first responders and those who support them, including healthcare workers, with:
Priority access

Get always-on priority access to voice, data, and text. This means you never have to compete with commercial traffic.

System reliability and security

Purpose-built for the unique needs of public safety and those who support them, including healthcare workers. It's designed to keep you connected when it matters most, with comprehensive tower-to-core encryption.

No throttling

There is no throttling for FirstNet users anywhere in the country.

Coverage and capacity

Providing over 2.81 million square miles of coverage – over 50K square miles more than any commercial network.
Learn how DHR Health uses FirstNet to connect when seconds matter
Priority access

Get 24x7 priority access to the cellular network. This means when you need to get through you will have priority over another person's usage on the network.

Protect your sensitive data

Our dedicated Security Operations Center monitors the network 24x7 for physical and cyber threats and our dedicated FirstNet core has available end-to-end encryption.

Deployable devices for expanded coverage

With 80+ FirstNet dedicated deployable devices, when the power goes out or you anticipate the need for more coverage, we can make sure your communications are working as fast as you are.

Personal device eligible

FirstNet can be activated on your business-issued devices and/or your personal device.*

*Subject to eligibility

Access for those that support

Eligible entities that support first responders may qualify for FirstNet access and most benefits.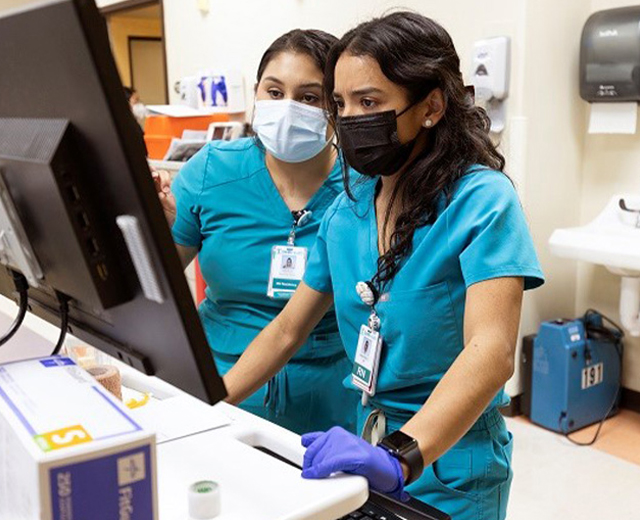 Connecting healthcare when and where they need it most
Read our latest healthcare eBook to learn how FirstNet can help keep you connected so you can focus on what's important, those that are relying on you.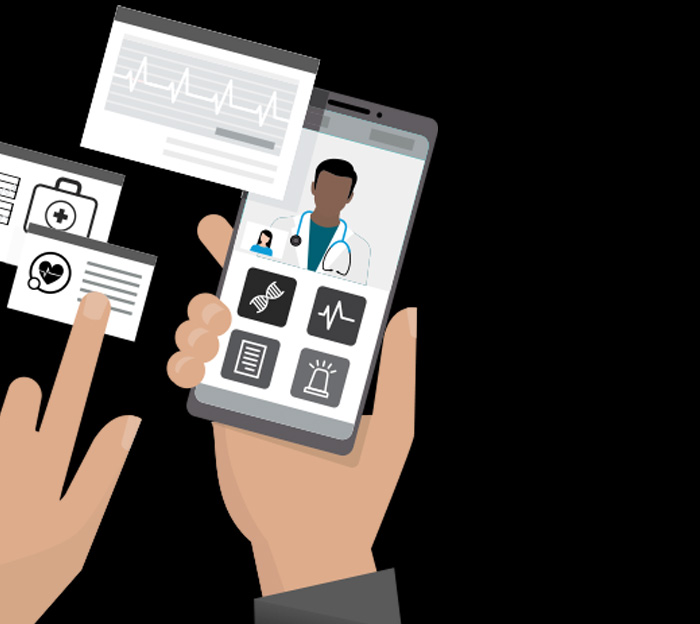 10 ways FirstNet can be the difference when seconds matter
FirstNet for healthcare: Priority access for critical communications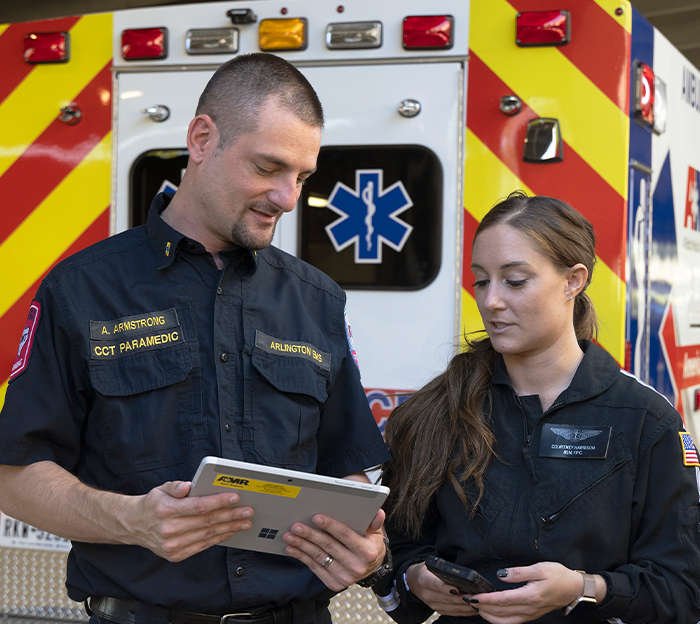 Network priorities for healthcare workers
7 reasons your iPhones and iPad needs to be on FirstNet®.
Exclusive deals and rate plans
Plans and offers  to fit any budget with exclusive deals, competitive pricing and a wide range of industry-leading devices.
| | |
| --- | --- |
| FirstNet was built for you  | FirstNet is the nation's first cellular ecosystem designed to help support first responders, hospitals, healthcare professionals, emergency care teams and those that support them with reliable, highly secure connectivity during everyday emergencies and in disasters. |
| The technology you need | FirstNet can help your facility enhance security, optimize your processes by gaining insights with IoT devices that can help you solve complex challenges in near-real tie - with potentially life-saving results. |
| Preparation and support | FirstNet has a variety of applications and tools to help your hospital maintain organizational readiness, support emergency staff, and stay in constant contact with hospital staff - because every one of you have an important role to play. |
| Government accountability | FirstNet is a government-contracted network and AT&T, its builder, is held accountable to high standards of service, including coverage buildout and network reliability. You can feel confident knowing the FirstNet network is trusted by private and government emergency personnel across the country. |
| Cybersecurity | FirstNet helps you maintain the security of your critical infrastructure and patient data. We employ a multi-layered defense, including geographical redundancy and 24/7 monitoring by a dedicated U.S. based security operations center. |
Healthcare, supporting first responders
Strong communication 24/7/365 is essential, and any absence of communication can cause potential harm to healthcare professionals and their patients. FirstNet is here to help.
Learn how the FirstNet dedicated secure network helps the field and the hospital communicate effectively to save lives.
Frequently Asked Questions (FAQ)
What is FirstNet?
FirstNet is the nationwide public safety cellular network, services, and solutions dedicated to first responders and those who support them. We are accountable for keeping your lines of communication open with dedicated mission critical solutions that will help to modernize public safety.
Is FirstNet only available to first responders?
No. In addition to first responders, FirstNet is also available to community of users who are critical to supporting an emergency response - including nurses and physicians or utility companies that clear downed power lines and manage gas leaks.
How does FirstNet work?
FirstNet uses all AT&T LTE spectrum bands and a special lane of connectivity called Band14 - nationwide, high-quality spectrum specifically set aside for FirstNet. During an emergency, this band - or lane - can be cleared and locked just for FirstNet subscribers.
Why is FirstNet unique?
FirstNet is the only communications platform specifically designed with and for public safety based on their direct feedback and needs. FirstNet works across agencies, jurisdictions and state lines and has robust tools and features.
What role does AT&T play?
AT&T is the official private partner behind FirstNet. AT&T is working with the First Responder Network Authority (FirstNet Authority) - an independent government agency - to design, build, and evolve FirstNet for the next 20+ years.
For existing FirstNet customer service call: 1.800.574.7000

We are here to help. Please fill out the information below to get in touch.
Note: If you are already a customer, please call 800.574.7000 for immediate service.
See how other responders are using FirstNet

Subscribe to the FirstNet Newsletter today!
By clicking Submit, you consent to AT&ampT sending you email about FirstNet services at the address you provide, even if you have previously opted out of receiving AT&ampT marketing emails.
By clicking Submit, you consent to AT&ampT sending you email about FirstNet services at the address you provide, even if you have previously opted out of receiving AT&ampT marketing emails.