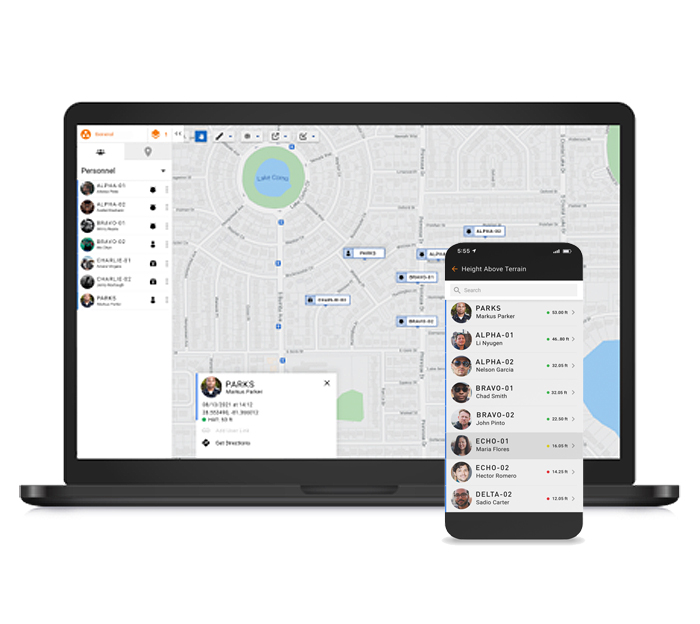 Help keep your teams safe with Locate Standard and Z-Axis
During an emergency, it's not easy to coordinate groups in the field. Existing solutions provide limited information on personnel locations, potentially delaying response time and decision-making.
With Locate Standard for FirstNet, gain a critical solution to locate your crew members and coordinate with greater efficiency. In addition, featuring Z-Axis technology and new Altimeter View feature, keep track of your crew members' vertical positions in a building, specific incidents and markers. Utilize a responsive search to quickly find first responder personnel especially when moments count.
Unlock a new level of visibility
Improve situational awareness

Locate and coordinate your team with confidence. By visualizing the exact location of all personnel, commanders can get the timely information needed to make critical decisions when seconds count.

Operate more efficiently

By utilizing our location tracking technology, reduce unnecessary and redundant radio traffic, so you can maximize operational efficiencies.

Shorten response times

Gain access to a unified command with other participating agencies in the same Response organization. Help reduce response times while creating a safer environment for civilians and first responders.

Experience easier deployment

With a simple interface, avoid the need for time-consuming training sessions and provide quicker, easier deployment to your agency. Get your team up and running within minutes, enabling them to focus on the operation.
Take it to the next level
When you download Locate Standard for FirstNet, immediately start with a free 2-month trial to Locate Pro and Activate, two additional FirstNet modules with even more functionalities and capabilities.
Free 12 Months Intrepid Response Locate Standard: Limited time offer. Eligibility: Avail. to public safety entities with a FirstNet serv. agmt (Business Agmt) and only for Agency Paid Primary user lines of serv. Subject to availability. New or existing subscribers must qualify for FirstNet service and complete verification process w/in 30 days. Check elig. at firstnet.com/eligibility. Eligible Devices/requirements: Must be a new or existing (BYOD) FirstNet Capable smartphone device with a FirstNet SIM card. See firstnet.com/devices for a current list of FirstNet Capable devices. App requires Android v. 8.0 or higher and iOS v.13 or higher. Response Locate Standard app service:  After 12 mos. Standard service will discontinue. To sign up for service after 12 months, customer must call 855-583-4288 between 8:30 AM – 5:30 PM EST. Pricing:  Locate Standard; $3 per user per mo. Response Locate Pro and Activate Free 2 mos.: After first 2 months, Locate Pro and Activate will automatically cancel. Subscribers must call FirstNet Care at 1.800.574.7000 to opt-in and continue service. Pricing: Locate Pro $6 per user per mo. & Activate; $3 per user per mo. Limits: Limit one license per account. May not be combinable w/other offers, discounts, or credits.
GEN. WIRELESS SVC: Subj. to applicable Business Agmt (see your AT&T representative for terms.) Credit approval req'd. Deposit: may apply. Limits: Purch. & line limits apply. Additional monthly fees & taxes:  Apply per line & include Regulatory Cost Recovery Fee (Up to $1.50), Administrative Fee ($1.99), Property Tax Allotment surcharge ($0.20-$0.45) & other fees which are not government-required surcharges as well as taxes. Additional one-time Fees may apply. See www.att.com/mobilityfees for more details. Usage, speed, coverage & other restr's apply. International and domestic off-net data may be at 2G speeds. AT&T & FirstNet services subject to AT&T network management policies. See att.com/broadbandinfo for details.Pricing, promotions, terms & restr's subject to change & may be modified or terminated at any time without notice.