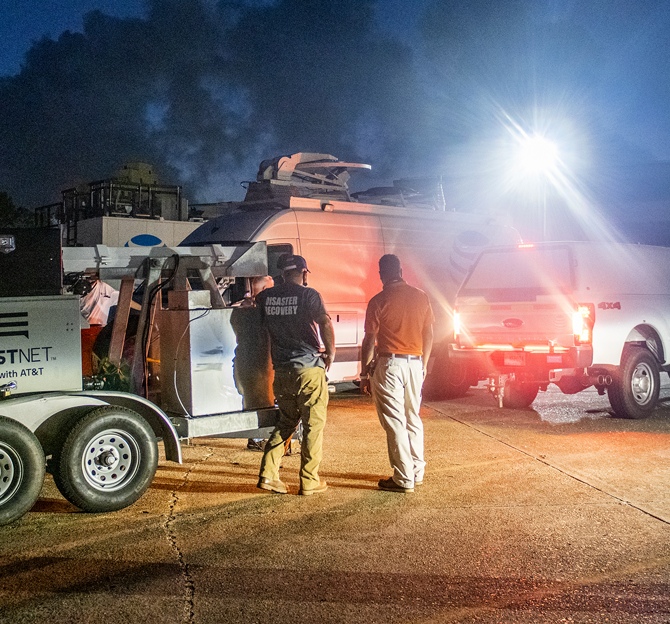 FirstNet response fleet of deployable assets
Available for FirstNet users when disaster strikes or for a planned high-visibility public event.

The fleet of 76 temporary service solutions includes ground-based assets such as Cell on Wheels (COWs) and heavy-duty Satellite Cell on Light Trucks or SatCOLTs. It also contains ground-breaking use of drones, Flying COWs™ (Cell on Wings), and FirstNet One – an industry-first blimp.
When disaster strikes, keeping first responders and our other customers connected is our priority – and the specific mission of our Network Disaster Response (NDR) team. Unwavering commitment, continuous improvement, and deploying the latest in technology solutions for restoring service fast has been the hallmark of our program since it began in 1992.
During emergency situations or planned events where replacement coverage and capacity are required, FirstNet and AT&T will evaluate the request, and when warranted, AT&T will provide the deployable services at no cost within a 14-hour delivery window.
During emergency situations or planned events where replacement coverage and capacity are required, FirstNet and AT&T will evaluate the request, and when supported, AT&T will provide the deployable services at no cost. In addition, supplementary coverage through mobile satellite services and other deployable systems can augment coverage throughout the 56 states and territories. FirstNet will facilitate the staging and management of deployable units through a "lending library" approach. Also, public safety agencies may consider procuring and employing their own deployables as their mission dictates and existing customers interested in purchasing their own deployable can do so through the solution "First Responders Mobility Zone."  For additional information, please contact a FirstNet specialist.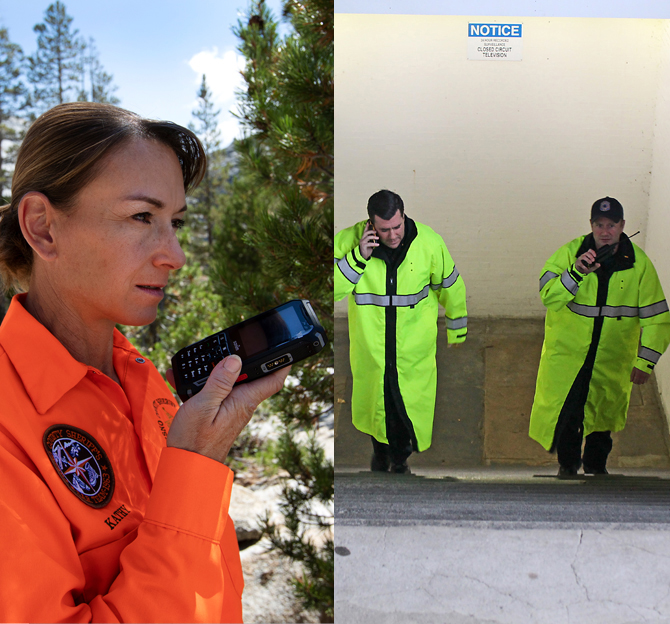 FirstNet MegaRange
FirstNet MegaRange is designed to improve connectivity and throughput of data services to our cellular towers – particularly at the edge of typical signal coverage – using specially designed FirstNet Ready modems.
This solution, also known as High Power User Equipment (HPUE), operates at a higher power class on Band 14 and enables devices to improve uplink data speeds at the edge of the network and provide a more reliable coverage area.
FirstNet MegaRange provides the greatest benefit in areas where data connectivity is unreliable, such as remote regions, rural areas, and tribal nations. It also boosts coverage in metropolitan areas that have challenges with cellular signal penetration through buildings and underground parking structures.
For additional information:
AW12 High Power USB Modem for Mission Critical Communications (PDF)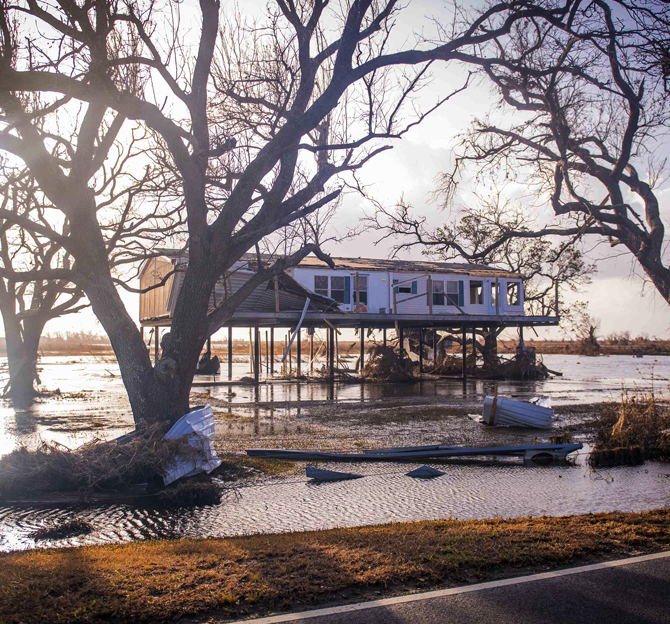 Satellite services
FirstNet provides a broadband LTE network and advanced satellite-based communication capabilities. These services help FirstNet link key agency professionals – even in remote areas and extreme settings.
Through Inmarsat Government, FirstNet offers a range of satellite solutions. Choose from satellite phones and transportable broadband solutions to full network recovery capabilities. There's a solution to meet your agency requirements and budget.
For more information visit https://www.inmarsatgov.com/firstnet/.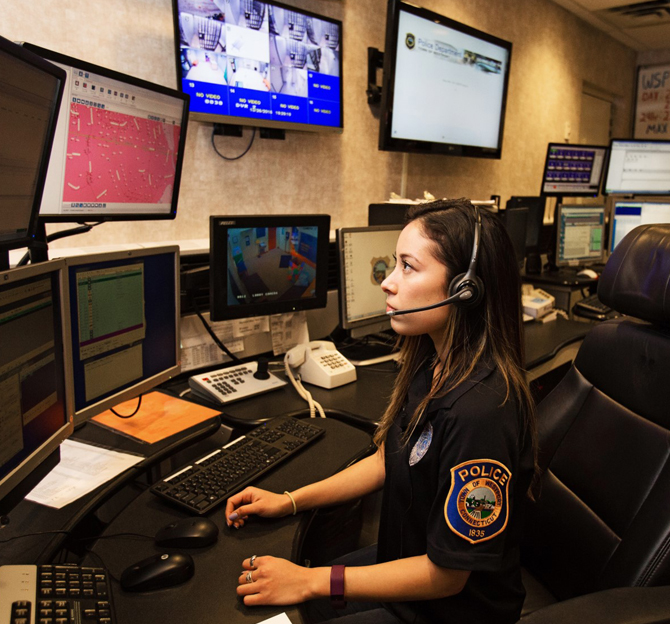 In-building solutions
Large concrete and steel structures often limit indoor cellular coverage. To alleviate this limitation, FirstNet uses Distributed Antenna Systems (DAS) in large public venues and buildings across the United States. The DAS network of small antennas enhance wireless service within a designated area or building. With over 6,000 already in place, the FirstNet DAS delivers enhanced connectivity, capacity, and coverage where an unassisted network signal would typically not reach. The LTE DAS will support First Priority® and will provide full access to the FirstNet network. This network "densification" provides added security and safety for citizens and first responders alike.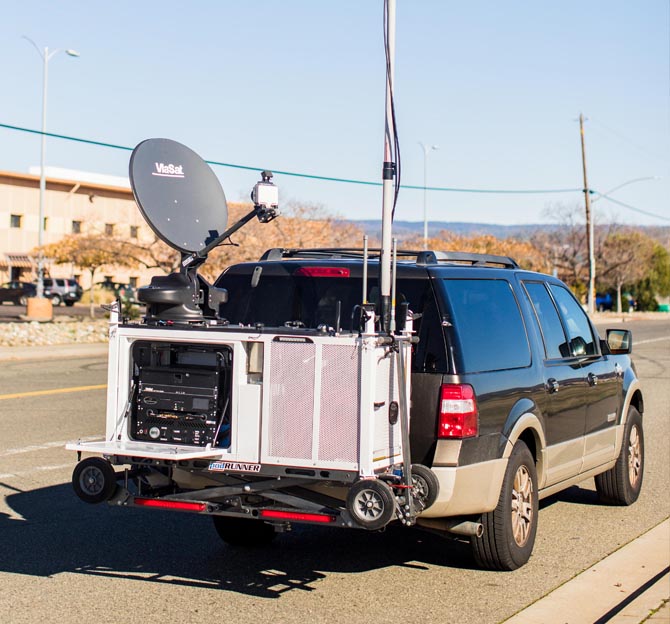 Compact Rapid Deployable™
CRD is an official FirstNet deployable. It generates an area of FirstNet cellular and wi-fi coverage, anytime and anywhere. Your very own Cell-On-Wheels (COW) can be deployed by a single person within minutes, wherever needed.
FirstNet cellular range up to 1/2 mile
High-speed satellite internet
Wi-fi range up to 1000'
Weatherproof and NEMA 4 compliant
FirstNet Ready™ router
Rapid deployable, single person set up <7 minutes
Rolls through standard ADA doorways
Deliverable by helicopter
CRD for FirstNet – Technical Specifications