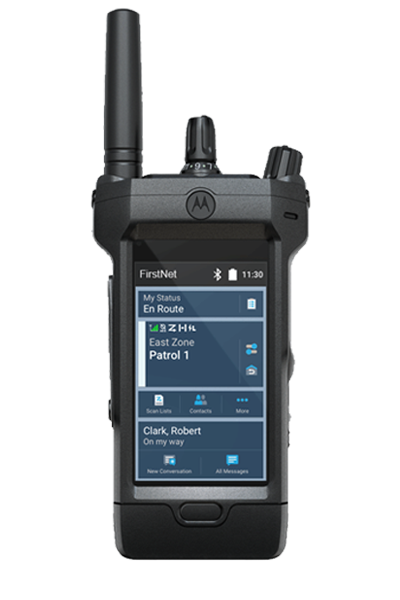 APX NEXT All-Band P25 Smart Portable Radio
Supports VHF, UHF, 700/800 MHz bands as well as LTE, Wi-Fi, Bluetooth and NFC.
Purpose-built, mission-critical P25 radio designed to military standards for extreme intrinsic ruggedness.
Highly ruggedized touch screen that can be used with gloves or even when wet.
Multiple microphones, high-power speakers & advanced digital audio techniques make sure you can always hear and be heard.
IMPRES™ 2 battery technology: Standard 12-hour battery, optional 18-hour hi-cap battery. 
Uses LMR for mission-critical voice communications and LTE broadband to power new application services including: 

ViQi: With ViQi Virtual Partner, first responders can retrieve information from remote databases using natural language interactions, such as "ViQi, run a license plate."
SmartConnect: To help ensure continuity of you voice communications, APX NEXT automatically switches to LTE connectivity whenever it detects that your LMR signal is low.
SmartLocate: GPS data is sent over broadband to a dispatcher's mapping console, providing dispatchers with up-to-date location information as fast as every 3 seconds. 
SmartProgramming: The radio's software and configuration data can be rapidly updated over broadband allowing devices to stay in the field.