See how other first responders are using FirstNet.  Click here to subscribe to the FirstNet Newsletter today!
Introducing FirstNet and Family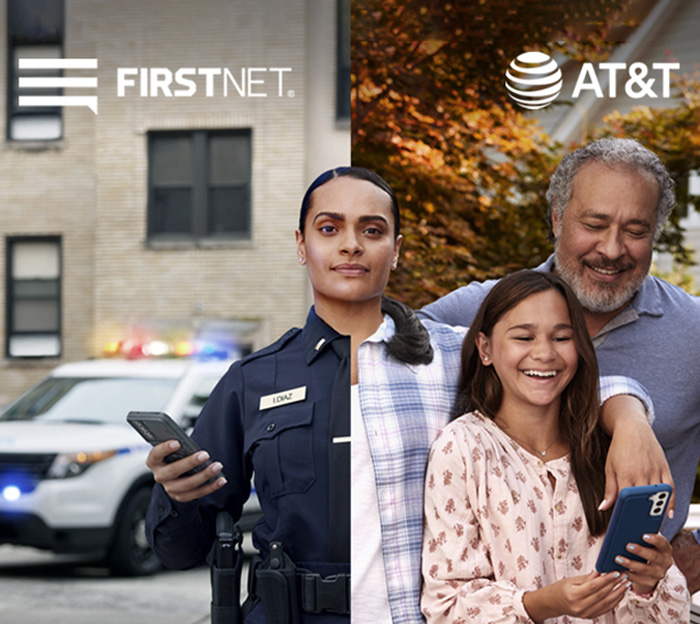 Connecting both your worlds
Public safety and those who support them get the mission-critical wireless network of FirstNet, and families save up to 25% on the world-class connectivity of AT&T*. All on one bill, with one point-of-purchase, and dedicated service and support.
Who will manage the account and pay the bill?
Choose an option below to display the various FirstNet plans.
FirstNet Mobile-Unlimited data plans
*Taxes and fees extra. Price per mo. per line. FirsNet Mobile - Unlimited plans are not avail. to subscribers in American Samoa.
Add'l terms and restr's apply. Learn more
FirstNet Mobile-Pooled data plans
*Taxes and fees extra. Prices are per mo. per line. Data added is cumulative to the total data available to the group.
FirstNet Wireless Broadband data plans
FirstNet® Wireless Broadband affords FirstNet-eligible public safety agencies a cost-effective network alternative for critical applications, whether it's used as a failover service or for connectivity. It is also a diverse backup option for mission critical applications and a quick deployment option when needed at offsite locations.
*Taxes and fees extra. Prices are per mo. per line. **Plans are based on speeds and include 175GB of data per billing cycle. If data usage exceeds 175GB for three consecutive billing periods, AT&T will convert billing account to a FirstNet Mobile-Pooled Rate Plan for data-only devices.
Contact a FirstNet Specialist
FirstNet® Unlimited Plans​
FirstNet Mobile - Responder Unlimited Plans
FirstNet Mobile - Responder Plans
Wireless rate plans for first responders and public safety
FirstNet rate plans provide a good value and a smart investment. FirstNet plans offer a broad range of wireless voice, text, and data services and are competitively priced. Subscription to FirstNet plans also includes:
Nationwide coverage on an all-band solution, including AT&T LTE bands and Band 14
Access to mmWave (5G+) services*
Dedicated FirstNet customer support
Full application ecosystem
Full device ecosystem
Credentialing processes (ICAM)
FirstNet rate plans for Agency Paid Users support a wide variety of Android®, and Apple® iOS smartphones, feature phones, and data-only devices, such as tablets, laptops, aircards, netbooks and mobile hotspot devices. FirstNet rate plans for Subscriber Paid Users support a wide variety of Android® and Apple® iOS, smartphones, feature phones, smart devices, and tablets.
*Limited availability; may not be avail. in your area. See www.firstnet.com/coverage for coverage details. 5G+ Service: Requires a FirstNet Ready™ 5G+ device, FirstNet SIM, FirstNet 5G+ rate plan, and no Custom APN. 5G+ service is not available in most areas; it is available only in very limited parts of select cities. Other restrictions apply.
International rate plan details
Domestic rate plan details
First Priority®–provides prioritization of select data, priority access to available network resources, and preemption capability1
Unlimited Talk & Text on Smartphones & Feature phones in the U.S. and its territories, plus Canada & Mexico2
No roaming charges in U.S. Territories, Canada and Mexico
Choice of a monthly data allowance or unlimited data to fit your budget and needs
¹First Priority® is provided at no additional monthly charge for Primary Users (i.e., first responder entities) and their respective Agency Paid and Subscriber Paid Users; it is available to Extended Primary Users (i.e., entities in roles that support first responder entities) for $7.50/month. Extended Primary Users cannot invoke preemption capability. 
²Pay-per-use rates apply to calls made to all other countries.